The Fellowship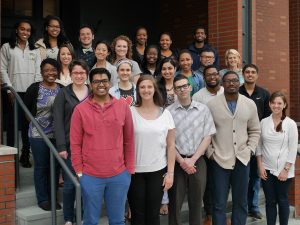 The Pittsburgh Schweitzer Fellows Program is a one-year, direct-service, interdisciplinary, mentored fellowship program focused on health and human services-related community service and leadership development. The Fellowship year starts April 1st and ends April 30th of the following year. The Pittsburgh Schweitzer Fellows Program strengthens Fellows' resolve to provide health and human service to underserved populations by facilitating opportunities for students to:
Use their skills and knowledge in real-life situations

Increase cultural sensitivity and compassion

Understand the impact of poverty and environment as determinants of health

Experience the personal satisfaction of helping to improve the health status of individuals and communities as well as contributing to social change

Work collaboratively and across disciplines in pursuit of a common goal

Raise awareness of the talents and perspective of professionals from other disciplines

Learn how to exercise leadership skills to work with and influence community agencies, community leaders, and academic institutions to embrace holistic, service-oriented approaches to health
Upon successful completion of the initial Fellowship year, Fellows have the opportunity to participate in an alumni network of Fellows for Life – an interdisciplinary pipeline of emerging professionals who are dedicated and skilled in meeting the health and human service needs of underserved communities.
Traditional and Environmental Fellowships
Since 1997, the Pittsburgh Schweitzer Fellows Program has invited graduate students from any discipline from any university in southwest Pennsylvania to submit an application to join us to work in underserved communities for one year while they remain in graduate school. Each Fellow:
Implements a direct service project (meaning face-to-face) in an underserved community in southwest PA through an established community agency.
Provide a community outreach project for a half day (working on housing for Habitat for Humanity, serving food at a soup kitchen, helping out with the Special Olympics).
Fellows visit the sites of two of their Schweitzer classmates any time during their year as a Fellow.
All Schweitzer Fellows meet monthly as an interdisciplinary group to share experiences with their projects, seek advice and hear from experts about an issue facing underserved populations. Meetings are held on a Sunday evening and dinner is provided (usually potluck).
Schweitzer Fellows submit a one page monthly report to Schweitzer staff and their mentors.
Schweitzer Fellows attend Schweitzer events – a Mid-Year event in October, Orientation in April, Retreat in May, Commencement in May and possibly a fundraising event. 
The Pittsburgh Schweitzer Fellows Program is the only program in the nation to offer both Traditional and Environmental Fellowships.
Provide 200 hours of service: 160 hours of direct service and 40 of administrative work
Receive a $2,000 stipend
No additional field trips or presentations are required<
Provide 300 hours of service: 240 hours of direct service and 60 of administrative work
Receive a $3,000 stipend Participate in one environmental field trip arranged by PSFP staff
Make a brief presentation (10 minutes) at a monthly meeting to their classmates regarding some topic concerning the environment and health, accompanied by a brief write-up