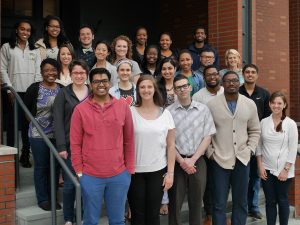 On Sunday, May 1 2016 the Pittsburgh Schweitzer Fellows Program (PSFP) held its annual Commencement to celebrate the accomplishments of its 2015 – 2016 Class of Schweitzer Fellows and to introduce the 2016 – 2017 class. The 2015 – 2016 class of 21 Fellows represented 3 universities from Southwest Pennsylvania and a dozen different disciplines. Collectively, the Fellows provided nearly 3,000 of direct service to more than 6,000 people in our region! PSFP celebrated the accomplishments of these fellows at Commencement, where guest speakers Jim Withers, and Ralph Fucillo spoke to a capacity crowd of more than 200 at the University Club, located in the University of Pittsburgh's Oakland campus. Jim Withers is the founder of Operation Safety Net, an internationally-recognized leader in street medicine, a 2015 CNN hero, and a co-founder of PSFP. Ralph Fucillo is the President of the DentaQuest Foundation and a former chair of the Albert Schweitzer Fellowship. Dr. Withers told the audience about his experiences providing medical care to the homeless and urged the Fellows to be willing to blaze their own trail in their careers. Mr. Fucillo spoke of dental heath as a social justice issue and reminded those in attendance that everyone has the right to be healthy. PSFP's vision is of a world in which every person – regardless of race, religion, ethnicity, sexual orientation or gender identity – enjoys access to quality health care, environmentally safe homes and communities, unqualified respect and avenues for maximizing potential. The dedication, work, and passion of the 2015 – 2016 Fellows have brought us closer to making that vision a reality.
2015-2016 Fellows
Kevin Baidoo & Nnaemeka Echibiri (TF) University of Pittsburgh, School of Medicine Kevin and Meka implemented their project in the Woodland Hills School District, where they mentored adolescent boys and taught classes about dating violence and healthy attitudes towards themselves and their partners. Nicholas Bender Chatham University (EF) Falk School of Sustainability Nick improved the eating habits of senior citizens at Vintage Senior Community Center in East Liberty. He cooked meals and discussed healthy alternatives and the environmental consequences of our food choices. Rahel Birru University of Pittsburgh (EF) Graduate School of Public Health Rahel worked at Magee Womens Hospital, Manchester Academic Charter School, and with Community Kitchen Pittsburgh to educate mothers and children about the potentially harmful health effects of chemicals commonly found in beauty products and processed food through lessons, safe product samples and demonstration meals. Elizabeth Bondarenko (TF) University of Pittsburgh, School of Health and Rehabilitation Sciences Elizabeth helped women improve their well-being at the Women's Center and Shelter of Greater Pittsburgh. She led group classes on topics such as yoga, relaxation, values clarification and goals-setting, in addition to facilitating a family movie night. Sarthi Dalal & Kiran Kaur (EF) Lake Erie College of Osteopathic Medicine Sarthi and Kiran worked with students between the ages of 5-21 at Pressley Ridge Day School in Greensburg. They engaged students in a dialogue about health, wellness and the environment while encouraging exercise and sustainable choices through activities, games, and projects. Tara Devezin & Simon Yohannes (EF) University of Pittsburgh, Graduate School of Public and International Affairs & University of Pittsburgh, School of Medicine Tara and Simon ran their program at the Jeron X. Grayson Community Center in the Hill District. They served as role models and taught adolescent boys and girls how to pursue their career goals, cook healthy and affordable meals, and to understand social and environmental justice issues through classes, field trips, and projects. Jun Elegino & Tanush Sahay (TF) Lake Erie College of Osteopathic Medicine Jun and Tanush's project focused on HIV and STD prevention among the homeless LGBTQ youth population in Pittsburgh. They worked with the Gay and Lesbian Community Center of Pittsburgh, where the pair provided sexual health education classes and screening for HIV and other diseases. Tamala Gondwe (EF) University of Pittsburgh, Graduate School of Public Health Tamala collaborated with Acculturation for Justice, Access and Peace Outreach to support to the African immigrant and refugee population in Northview Heights. She led health seminars, taught refugees about available health resources, and showed them how to shop in American grocery stores. Ashley Harris & Krystin Paul (TF) University of Pittsburgh, School of Law Ashley and Krystin implemented their project for girls aged 12-17 at the Gwen's Girls after school programs in Penn Hills and the North Side. They mentored the girls, taught them skills for conflict resolution, helped with college applications, and engaged their students in service projects for the elderly. Andrea Joseph (TF) University of Pittsburgh, School of Social Work Andrea worked with 6 th -12 th grade students at the Student Achievement Center in Homewood, where she taught skills regarding "emotional regulation" and provided one-on-one and group mentorship to students facing detention or suspension. Jason Lucarelli (TF) Chatham University, Counseling Psychology Jason provided mentoring and counseling to LGBTQ youth with a holistic approach through the Gay and Lesbian Community Center of Pittsburgh. His project culminated in a conference designed by and for LGBTQ youth. Taylor Staiger (TF) University of Pittsburgh, School of Law Taylor assisted newly settled refugees adapt to life in Pittsburgh through the Jewish Family and Children's Service of Pittsburgh. She helped her population learn such essentials as shopping for food and clothing, opening a bank account, and taking public transportation. Kendra Strobel (EF) University of Pittsburgh, School of Law Kendra ran a support group for teenage girls diagnosed with diabetes at the Carnegie Library in Homestead. Group topics included the environmental causes and consequences of diabetes, information about free or inexpensive supplies, and mental health issues like depression and stress. Kali Stull (TF) University of Pittsburgh, Graduate School of Public Health Kali provided opportunities for women incarcerated at the Allegheny County Hail to improve their physical and emotional health. Kali led yoga classes and discussions of such topics as violence and sexuality. She also addressed the continuation of health care after the women are released from jail. Anne Wang (TF) University of Pittsburgh, School of Dental Medicine Anne worked with new moms and dads at The Learning Center at Genesis in Bellevue. She taught prenatal lessons and held workshops regarding smoking cessation for parents and newborn care, including feeding and safe sleeping. Lauren Woolley (TF) University of Pittsburgh, School of Pharmacy Lauren worked with FOCUS Pittsburgh to implement medication management and education services at a free health clinic in the Hill District. She helped patients understand their prescriptions and disease states through the Community Trauma Outreach project. TF = Traditional Fellow EF = Environmental Fellow
Congratulations again Kevin, Nicholas, Rahel, Elizabeth, Sarthi, Tara, Nnaemeka, Jun, Tamala, Ashley, Andrea, Kiran, Jason, Krystin, Tanush, Taylor, Kendra, Kali, Anne, Lauren, and Simon!